Features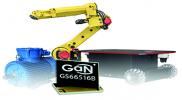 Power GaN can revolutionise the industrial world - issue 3/2019
Industry 4.0 brings rise to an era of smart factory floors that synergize mass production capabilities with automation, robotics and M2M communication....
More details...
Linear voltage regulators operate at automotive temperatures
Designed for high reliability, high temperature applications, the CMT-Antares is Cissoid's latest regulator.
More details...
Feature Spotlight
Direct Cooled Low Inductive SiC Mold Module - issue 3/2019
June 26, 2019

To make use of the superior properties of wide bandgap (WBG) semiconductors, power modules are needed with optimised parasitic electromagnetic properties, a high temperature capability and the possibility for a high degree of integration...

Download PDF