Features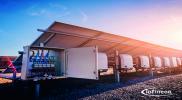 Benefits of CoolSiC MOSFETs in Bi-Directional Inverter Applications - July 2021
With the move to renewable energy, there is an increased focus not only on generation but also storage, to make the most of the intermittent supply from wind and solar. Batteries are the common...
More details...
Feature Spotlight
GaN Raises Electric Vehicle Powertrain Performance - April/May 2021
April 22, 2021

In recent years, the number of electric vehicles (EVs) have multiplied on our global roads. Industry analysts expect that 56 million new EVs will be sold in 2040. The electricity consumption that accompanies this growth will rise to 1,800 TWh, representing 5% of global power according to Bloomberg NEF's Electric Vehicle
Outlook. A smart, smaller, lighter-weight powertrain is a key area in creating changes for the EV industry.

Download PDF