Features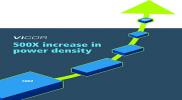 Innovating Power Module Packaging - April/May 21
A systemís power delivery network or PDN is made up of passive and active components such as cables, connectors, AC-DC and DC-DC converters and regulators. As power levels increase to enable new
More details...
Feature Spotlight
GaN Raises Electric Vehicle Powertrain Performance - April/May 2021
April 22, 2021

In recent years, the number of electric vehicles (EVs) have multiplied on our global roads. Industry analysts expect that 56 million new EVs will be sold in 2040. The electricity consumption that accompanies this growth will rise to 1,800 TWh, representing 5% of global power according to Bloomberg NEFís Electric Vehicle
Outlook. A smart, smaller, lighter-weight powertrain is a key area in creating changes for the EV industry.

Download PDF