Features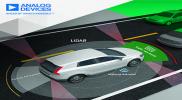 Powering the future of Autonomous driving - issue 4/2019
Analog Devices announced mid July a collaboration with First Sensor AG to develop products aimed at speeding the launch of autonomous sensing technology serving unmanned automotive, aerial and...
More details...
Linear voltage regulators operate at automotive temperatures
Designed for high reliability, high temperature applications, the CMT-Antares is Cissoid's latest regulator.
More details...
Power Electronics Europe News
EPC to Provide eGaN devices in wafer form
EFficient Power Conversion (EPC)'s eGaN field-effect transistors (FETs) and integrated circuits (ICs) are traditionally sold as singulated chip-scale devices with solder bars or solder bumps, but chip-scale packaging reduces the resistance, inductance, size, thermal impedance, and cost of power transistors.
By offering these devices in wafer form allows for easier integration in customer power system sub-assemblies, says the company, further reducing device interconnect inductances and the interstitial space needed on the PCB to increase both efficiency and power density while reducing assembly costs.
The GaN products in wafer form can accommodate a variety of assembly techniques and applications, says the company, which is offering eGaN power devices in wafer form either with or without solder bumps.
Extra services such as wafer thinning, metallisation of the wafer backside, and application of backside coating tape are also available.
View PDF