Features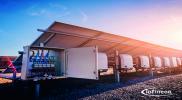 Benefits of CoolSiC MOSFETs in Bi-Directional Inverter Applications - July 2021
With the move to renewable energy, there is an increased focus not only on generation but also storage, to make the most of the intermittent supply from wind and solar. Batteries are the common...
More details...
Power Electronics Europe News
UPS service revenues are predicted to grow to $3.1billion in 2014
Revenues from UPS services in 2014 are forecast to grow from 2013's $2,894 million to $3,117 million, according to the latest research on the market by IHS.

Service revenues often follow the trends seen in the UPS hardware market, although they are not inextricably linked, says the company. The analyst includes revenues for service contracts, warranties, installation, battery replacements and preventative maintenance on UPS hardware when assessing the service market.
Despite UPS hardware sales falling year-on-year, service vendors have increased the penetration of service and support. It is projected that service and support revenues will grow by 4.3% in 2013, to reach $2.9billion. In 2012, the service market contracted by 0.7%.
The Asia-Pacific region was estimated to have grown by 5.9% in 2012. In contrast, the markets in the Americas and EMEA both declined over the same period. While it is estimated that growth will return to all regions, Asia will continue to be the area of the strongest growth, with the market projected to expand by 11.1% in 2014, compared to a global average of 7.7%.
Conditions are still challenging for UPS hardware sales.
With the UPS hardware market set to return to growth over the coming years, service revenues are, as a result, set for continued growth through the next five years as greater hardware numbers provide a further avenue for increased service penetration. The insatiable requirement of individuals and businesses for ever greater amounts of storage will drive the number, and scale, of data centres over the coming decade.
View PDF