Features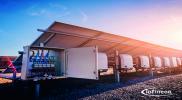 Benefits of CoolSiC MOSFETs in Bi-Directional Inverter Applications - July 2021
With the move to renewable energy, there is an increased focus not only on generation but also storage, to make the most of the intermittent supply from wind and solar. Batteries are the common...
More details...
Power Electronics Europe News
Medical external adapters comply with Ecodesign
The adapters are competitively priced, says the company and meet both DoE Level VI and CoC Tier 2 efficiency requirements. The five Blueline models (5.0, 16, 28, 42 and 60W models) are UL-approved and are certified to EN 60601-1 medical safety and EMC specifications. Safety features include over-voltage and short-circuit protection, LED status indicator, and 4,000V AC/5,700V DC Class II primary-to-secondary insulation. All have universal input voltage, fixed output voltage offering a choice of standard voltages, and operate from -20 to 40°C or up to 60°C with derating.
The medically-certified external adapters are suitable for a variety of industries and applications such as laboratory equipment, data collection, test and measurement, biotech, calibration equipment, monitors and communications.
View PDF