Features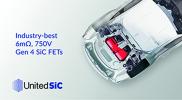 A New Approach to Circuit Breaker Design Using Silicon Carbide Switches - Nov 21
Mechanical circuit breakers can be low cost with minimal losses, but they operate slowly and wear out. Solid state versions overcome the problems and are becoming increasing viable as replacements at...
More details...
Power Electronics Europe News
High power current sense resistors have terminal choices
The resistors are available in two-terminal and four-terminal options. The two-terminal models are available in three different footprint sizes: 5930, 3920 and 2512 (6332 metric). Resistance values are as low as 0.2mΩ, enabling each family to have a range of low resistance options and power ratings of up to 15W. The four-terminal design allows for high precision four-Kelvin resistance measurements and is available in size 4026.
Other characteristics are long term stability, low inductance, low thermal EMF, and custom capability, says the company. The resistors are AEC-Q200-compliant and have been designed for applications such as current sensing, battery management systems, power modules/motor controllers, as well as frequency converters
The resistors detect and convert current to an easily measured voltage which is proportional to the current through the device.
View PDF