Features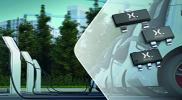 New Developments in RET Technology - Feb/March 2021
Resistor-Equipped Transistors (RETs) – also known as digital transistors or pre-bias transistors – offer many benefits, including saving space, reducing manufacturing costs and increased...
More details...
Power Electronics Europe News
Two motor drivers boost powertrain performance
The DRV8305-Q1 is a highly integrated three-phase brushless DC gate driver, and the UCC27211A-Q1 is a high-current half-bridge gate driver.
For powertrain applications, such as transmission pumps or engine cooling fans, the DRV8305-Q1 features a smart gate-drive architecture with programmable slew-rate control to optimise MOSFET electromagnetic compliance. Operating ambient temperature range of the DRV8305-Q1 is -40 to 150°C, meeting the Automotive Electronics Council (AEC)-Q100 Grade 0 automotive temperature specification.

It operates down to 4.4V to support start-stop functionality, which enables car manufacturers to meet fuel efficiency and carbon-dioxide emission standards. The integrated 3.3 or 5.0V linear regulator, three current-sense amplifiers and smart gate-drive architecture reduce board size and eliminates up to 20 external components, says the company.

On-chip protection, with detailed fault diagnostics, guard against over-temperature, under-voltage lock-out, MOSFET shoot-through and over-current events.

The 100-V UCC27211A-Q1 half-bridge gate driver supports both brushed and brushless DC motor applications. Designing with individual half bridges allows placement of the gate driver close to the MOSFETs, minimising parasitic inductances and simplifying overall board layout, claims the company. It is claimed to have the industry's fastest propagation delays - 15ns, as well as fast rise and fall times of 7ns and a 4A peak gate drive.

Negative voltage rating of -12V protects the driver from potentially damaging voltage spikes.

The 9.0 x 9.0mm DRV8305-Q1 is available today, in a 48pin thermally enhanced TQFP. The DRV8305-Q1 evaluation module is also available to design and configure a three-phase motor drive and control system.

The UCC27211A-Q1 is available now in an eight-pin, SOIC with PowerPAD packaging.
View PDF