Features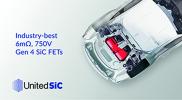 A New Approach to Circuit Breaker Design Using Silicon Carbide Switches - Nov 21
Mechanical circuit breakers can be low cost with minimal losses, but they operate slowly and wear out. Solid state versions overcome the problems and are becoming increasing viable as replacements at...
More details...
Power Electronics Europe News
Charger rescues eCall battery back-up
The batteries are used in automotive emergency call (eCall) systems. It offers up to four times lower leakage current of 3µA, which the company claims is the industry's lowest leakage current. This allows the eCall back-up battery to remain charged for a longer period of time.
Manufacturers are installing eCall in Vehicle to Infrastructure (V2I) systems. In the event of a crash, the system automatically broadcasts its location via GPS and contacts the nearest 24-hour emergency call centre for help. The eCall systems must be capable of operating reliably and autonomously from the back-up battery at a moment's notice, even if the vehicle is involved in an accident minutes after being parked for several months.
The ISL78693 battery charger is designed to support emerging worldwide eCall systems such as Japan's D-Call Net trial, which saves additional life-saving seconds by automatically transmitting vehicle data to an emergency call centre that assesses collision severity and dispatches ground or air-ambulance help. Europe's eCall version brings immediate assistance to motorists involved in a collision, while both ERA-GLONASS in Russia and OnStar in the US provide safety and ambulance call services.
The battery temperature monitoring and low 3.6V output voltage both safeguards and extends the life of LiFePO4 batteries. It requires only five external passive components to program the full charging platform. The 3.0 x 3.0mm DFN package saves space on PCBs and offers a charge current thermal fold-back feature that prevents over-heating by automatically reducing the battery charging current.
Reverse battery leakage of 700nA (typical) and 3µA (maximum) over -40 to 85°C increases the length of time the backup battery remains charged when Vin supply is off.
Programming charging current of up to 1A allows a trade-off of battery charging time against heat dissipation and expected battery lifetime
Operation is guaranteed down to 2.65V after start-up, preventing shut off during cold-crank start.
The device is AEC-Q100 Grade-3 qualified and is pin-compatible with the company's 4.1V ISL78692 Li-ion battery charger. An ISL78693EVAL1Z evaluation board is also available.
View PDF