Features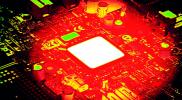 Integrated Battery-Charging Solution with Power Path Management - issue 5/2019
A new single coil power management IC with flexible configuration, rich functions and high efficiency integrates as many analog circuits as possible...
More details...
Linear voltage regulators operate at automotive temperatures
Designed for high reliability, high temperature applications, the CMT-Antares is Cissoid's latest regulator.
More details...
Power Electronics Europe Events
APEC 2020
June 11, 2019 - November 22, 2019
With more than 5,000 delegates APEC closed in March 2019. APEC 2020 in New Orleans, also in March, continues the long-standing tradition of addressing issues of immediate and long-term interest to the practicing power electronic engineer. Outstanding technical content is provided at one of the lowest registration costs of any IEEE conference.
Prospective authors of Technical Papers are asked to submit a digest explaining the problem that will be addressed by the paper, the major results, and how this is different from the closest existing literature. Papers presented at APEC must be original material and not have been previously presented or published. The principal criteria in selecting digests will be the usefulness of the work to the practicing power electronic professional. Reviewers value evidence of completed experimental work. Authors should obtain any necessary company and governmental clearance prior to submission of digests.
If a digest is accepted, authors must submit a final manuscript before the deadline or the manuscript cannot be published in the Proceedings or presented at the conference. Both the technical paper and its APEC presentation file will be distributed as protected Adobe PDF files (text and graphics copy protected). Submission of your digest serves as your implicit agreement and consent to electronic distribution of your presentation. Final manuscripts may be subject to charges if their papers are over the page or file-size limit. At least one of the authors listed on a paper must be registered for either a Full Registration or for the Technical Sessions Only registration, per paper.
Dates:
July 19, 2019 Deadline for submission of digests
October 16, 2019 Notification that a paper was accepted or declined
November 22, 2019 Final papers and author registrations are due