Features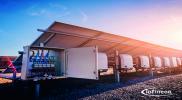 Benefits of CoolSiC MOSFETs in Bi-Directional Inverter Applications - July 2021
With the move to renewable energy, there is an increased focus not only on generation but also storage, to make the most of the intermittent supply from wind and solar. Batteries are the common...
More details...
Power Electronics Europe News
SiC portfolio with 1700V MOSFET die, discrete and power module devices extend designers' options for efficiency and power density...
Tagore introduces 650V GaN Power IC, TP44200NM, comprising GaN Power FET with monolithically integrated driver ...
High cooling capacity with minimal pressure drop are convincing features of the new IsoMAXX cold plates from Mersen...
Toshiba's TLP3910 photovoltaic-output photocoupler can drive the gates of high voltage power MOSFETs in SSR function...
The low-voltage MAX25512 retains full, constant brightness in vehicle displays even during cold crank, says Maxim Integrated...
Three battery charger ICs engineered for energy harvesting while moving have been released by e-peas...
Rohm Semiconductor has introduced the BD9G500EFJ-LA and BD9F500QUZ buck DC/DC converter ICs with a built-in MOSFET....
Infineon Technologies and Amber Solutions announced on July 6 an alliance on a range of Silicon opportunities anchored around Amber's breakthrough digital control of electricity with embedded intelligence...
Welsh semiconductor plant to focus on MOSFETs, IGBT, Analog and Compound Semiconductor Automotive-grade products...
The U50SU4P162 provides 48V / 12V bi-directional conversion for high efficiency, high density data centres, says Delta...