Features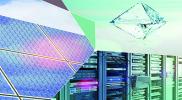 SiC MOSFETs for Bridge topologies in three-phase power conversion - issue 6/2019
Efficiency, productivity and legislation are the main drivers in power applications today. Making more out of less energy and saving costs is putting a greater focus on better conversion efficiency...
More details...
Linear voltage regulators operate at automotive temperatures
Designed for high reliability, high temperature applications, the CMT-Antares is Cissoid's latest regulator.
More details...
Power Electronics Europe Events
November 13, 2019 - December 20, 2019
Research results in power semiconductors and microelectronics in San Fracisco in December ...
Read more

October 25, 2019 - February 19, 2020
ECPE announced its calendar of workshops and tutorials for Q1 2020 ...
Read more

October 24, 2019 - January 15, 2020
The SEMIKRON Innovation Award and the Young Engineer Award 2020 which have been initiated and are donated by the SEMIKRON Foundation are given for outstanding power electronic innovations covering 10.000 and 3.000 Euros. ...
Read more

October 18, 2019 - December 12, 2019
The H(EV) market is a battle on multiple fronts For power electronics. Thus Yole organises a Tech Day on December 12th, 2019 from 1:45 PM in Stuttgart, Germany ...
Read more

August 22, 2019 - January 31, 2020

1