Features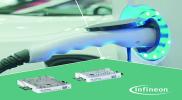 Design considerations for fast DC chargers targeting 350 Kilowatt - issue 2/2019
Working groups within standards organisations have, around the world, defined everything from the operational envelope and charging sequence, to the communication and connectors of High Power...
More details...
Linear voltage regulators operate at automotive temperatures
Designed for high reliability, high temperature applications, the CMT-Antares is Cissoid's latest regulator.
More details...
Power Electronics Europe Events
February 6, 2019 - April 26, 2019
Biennial International Workshop on Integrated Power Packaging (IWIPP) convenes April 24-26, 2019, in Toulouse, France; Multi-disciplinary program is dedicated to advancing the state-of-the-art in power semiconductor packaging ...
Read more

January 29, 2019 - May 8, 2019
The PCIM Europe conference program 2019 is now fixed: Top speakers from science and industry will present their latest research findings and innovations in the field of power electronics in Nuremberg from 7 – 9 May 2019 ...
Read more

January 10, 2019 - March 29, 2019
The European Center for Power Electronics presents its program for the first quarter 2019 ...
Read more

1