Features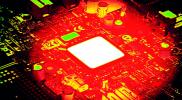 Integrated Battery-Charging Solution with Power Path Management - issue 5/2019
A new single coil power management IC with flexible configuration, rich functions and high efficiency integrates as many analog circuits as possible...
More details...
Linear voltage regulators operate at automotive temperatures
Designed for high reliability, high temperature applications, the CMT-Antares is Cissoid's latest regulator.
More details...
Power Electronics Europe Events
October 18, 2019 - December 12, 2019
The H(EV) market is a battle on multiple fronts For power electronics. Thus Yole organises a Tech Day on December 12th, 2019 from 1:45 PM in Stuttgart, Germany ...
Read more

August 22, 2019 - January 31, 2020

August 1, 2019 - October 31, 2019
Market trends are addressed at the PCIM conference with papers on wide bandgap technologies, new devices, and interesting new future applications. Now the Call for Papers is open until October 30. ...
Read more

June 11, 2019 - November 22, 2019

June 11, 2019 - December 4, 2019
ECPE presented the final programmes for upcoming Workshops and Tutorials for 2nd half 2019 ...
Read more

1