Features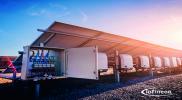 Benefits of CoolSiC MOSFETs in Bi-Directional Inverter Applications - July 2021
With the move to renewable energy, there is an increased focus not only on generation but also storage, to make the most of the intermittent supply from wind and solar. Batteries are the common...
More details...
Power Electronics Europe Events
July 22, 2021 - November 19, 2021
Rehm Thermal Systems takes part in Bondexpo and productronica 2021 ...
Read more

July 20, 2021 - September 17, 2021
The Power Electronics community will gather online from 6 to 10 September 2021 at EPE'21 ECCE Europe to exchange views on research progress and technological developments in the various topics related to Power Electronics and Adjustable Speed Drives ...
Read more

July 16, 2021 - October 29, 2021
Experts from industry and academia in the power electronics industry are invited to apply to be a speaker at the PCIM Europe Conference 2022 with a short abstract. The Call for Papers will be open until 15 October 2021. The event is planned to be taking place on-site in Nuremberg from 10 – 12 May 2022 ...
Read more

May 20, 2021 - December 10, 2021
The final programme of the ECPE Hybrid SiC & GaN User Forum and other 2021 events are ready ...
Read more

1