Features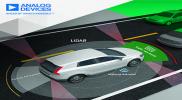 Powering the future of Autonomous driving - issue 4/2019
Analog Devices announced mid July a collaboration with First Sensor AG to develop products aimed at speeding the launch of autonomous sensing technology serving unmanned automotive, aerial and...
More details...
Linear voltage regulators operate at automotive temperatures
Designed for high reliability, high temperature applications, the CMT-Antares is Cissoid's latest regulator.
More details...
Power Electronics Europe Events
APEC 2020 in New Orleans
June 21, 2019 - September 30, 2019
The APEC 2020 Conference Committee is seeking qualified engineers and scientists to assist in the peer review of the large quantity of paper digests expected for APEC 2020, to be held in New Orleans, March 15-19, 2020. All technical program papers presented, either in the technical presentations or as dialog (poster) sessions, have been chosen as a result of a rigorous, peer-review process. Nearly 1200 paper digests are expected. Based upon the scores received, about 650 papers will be chosen for inclusion in the program.
"Every year, the peer-review process is critical to the strength of the APEC Technical Program and the overall conference," said Conor Quinn, Program Chair. "Because of the high volume of digest submissions, this task requires hundreds of qualified reviewers. Please join us in this important effort and contribute to the success of APEC 2020." Digest submissions for the technical program are due by July 19, 2019. Peer-review of submitted digests will then take place through the end of September. The Conference Committee, including the program track chairs, will meet in early October to assess the results and begin the process of inviting the selected presenters. Volunteers will be asked to identify their research interests / areas of expertise and select up to ten topics where their expertise would qualify their participation. Interested parties are invited to apply using this link: https://epapers.org/apec2020/ESR/reviewer_signup.php