Features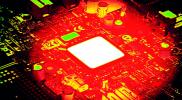 Integrated Battery-Charging Solution with Power Path Management - issue 5/2019
A new single coil power management IC with flexible configuration, rich functions and high efficiency integrates as many analog circuits as possible...
More details...
Linear voltage regulators operate at automotive temperatures
Designed for high reliability, high temperature applications, the CMT-Antares is Cissoid's latest regulator.
More details...
Power Electronics Europe Events
PCIM Europe 2020 Call for Papers
August 1, 2019 - October 25, 2019
With an excellent result in its 41st year - 515 exhibitors, 12,000 trade visitors and 800 conference delegates – PCIM Europe 2019 underlined its leading position in the international Power Electronics event landscape. "The PCIM Conference and Exhibition serves the power electronics industry and academia by introducing new technologies to the market and discussing the latest research results and products during the conference. Over the years we have seen a strong development and the PCIM 2019 is the largest event in applied power electronics on a worldwide scale. Regarding technical directions digitally controlled power conversion systems will achieve higher power densities, higher efficiencies, and higher flexibility along with zero failure design for the specified lifetime", Conference Director Leo Lorenz pointed out. Top highlights are wide bandgap technologies and devices. Here many applications with outstanding performance and cost benefits at the system level are emerging, leading to outstanding market increase figures for wide bandgap devices by a factor ot 12, from 250 million dollars today up to 3 billion by 2030, split in two third for Silicon Carbide and one third for Gallium Nitride.
Now Power Electronic Designers/Researchers are invited to present a paper at PCIM Europe 2020 with the chance to receive the BEST PAPER Award (Sponsored by Power Electronics Europe) featuring a price money of € 1,000 plus participation of PCIM Asia 2021, or one of the three YOUNG ENGINEER Awards featuring a price money of € 1,000 each – for engineers not older than 35 years.
Submission of abstracts is due by 15 October 2019, Notification of acceptance January 2020, Submission of full manuscript by 2 March 2020!
All details at www.pcim-europe.com or direct contact Donata Pfender 49 711 61946-503 donata.pfender@mesago.com