Features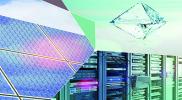 SiC MOSFETs for Bridge topologies in three-phase power conversion - issue 6/2019
Efficiency, productivity and legislation are the main drivers in power applications today. Making more out of less energy and saving costs is putting a greater focus on better conversion efficiency...
More details...
Linear voltage regulators operate at automotive temperatures
Designed for high reliability, high temperature applications, the CMT-Antares is Cissoid's latest regulator.
More details...
Power Electronics Europe Events
CIPS 2020
August 22, 2019 - January 31, 2020
In the next decades, power electronic system development will be driven by energy saving systems, intelligent energy management, power quality, system miniaturization and high reliability. Monolithic and hybrid system integration will include advanced device concepts including wide bandgap devices, new packaging technologies and the overall integration of actuators/drives (mechatronic integration).
Thus CIPS is focused on the following main aspects:
assembly and interconnect technology for power electronic devices and converters

integration of hybrid systems and mechatronic systems with high power density

systems' and components' operational behavior and reliability
Basic technologies for integrated power electronic systems as well as upcoming new important applications will be presented in interdisciplinary invited papers.
In 2020 the successful story of CIPS will continue as the conference focus is today more important than ever – increasing functionality, energy efficiency and system reliability while decreasing cost.
Experts from industry and research institutes wishing to present results of their recent research are cordially invited to submit a paper. Accepted papers will be presented in either oral or poster sessions. Please submit a pdf formatted abstract in English with a length of two pages including figures, tables & references showing summary, motivation, approach and results. The paper should be headed by title, authors' names and affiliations. Please register your paper using the EDAS online registration. If you have already a personal account, please login with your username and password. Otherwise first create a new account, and then register your paper.
At least one full registration is required per paper. Inclusion of accepted papers in the conference proceedings CD-ROM is conditional upon receiving payment for at least one full registration per paper latest by January 31, 2020.
More under https://www.edas.info/newPaper.php?c=25883 and www.cips.eu