Features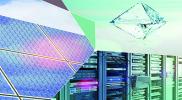 SiC MOSFETs for Bridge topologies in three-phase power conversion - issue 6/2019
Efficiency, productivity and legislation are the main drivers in power applications today. Making more out of less energy and saving costs is putting a greater focus on better conversion efficiency...
More details...
Linear voltage regulators operate at automotive temperatures
Designed for high reliability, high temperature applications, the CMT-Antares is Cissoid's latest regulator.
More details...
Power Electronics Europe Events
TechDay - EV/HEV Cost vs. Performance Trade-off
October 18, 2019 - December 12, 2019
The electric vehicle (EV/HEV) market is clearly driving the power electronics evolution and many technological developments. Many companies from different segments are actively working to develop products for EV/HEV, as it is a very demanding application: high power density, low system losses, enhanced thermal management, system downsizing, cost reduction… All this together means that the OEMs need to find optimized solutions going from the battery design and battery management system improvement, to system design, packaging techniques for good thermal dissipation and reliability, or new semiconductors enabling higher power density and lower conversion losses. Only the correct synergy between those solutions will make a winner product.
Thus french market researcher Yole Développement, System Plus Consulting and KnowMade welcome you for an executive-level event providing a complete overview of the ecosystem and technologies being pushed by the EV segment, including amongst others power device packaging, batteries and new semiconductor materials.
More details on their website or direct contact Léonor Martin.