Features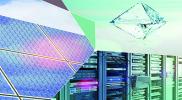 SiC MOSFETs for Bridge topologies in three-phase power conversion - issue 6/2019
Efficiency, productivity and legislation are the main drivers in power applications today. Making more out of less energy and saving costs is putting a greater focus on better conversion efficiency...
More details...
Linear voltage regulators operate at automotive temperatures
Designed for high reliability, high temperature applications, the CMT-Antares is Cissoid's latest regulator.
More details...
Power Electronics Europe Events
ECPE Workshops & Tutorials
October 25, 2019 - February 19, 2020
The European Center for Power Electronics presents its ECPE Calendar of Events with the topics, dates and locations of workshops and tutorials.
Again ECPE tried to compile a wide selection of up-to-date topics in different power electronic applications for our workshops, combined with the established Tutorial Series for young engineers.
Also have a look at the programme flyers for the upcoming Workshop in December and January. ECPE member companies are able to send up to three participants free of charge to each workshop.
Further upcoming tutorials and workshops:
ECPE Workshop 'Magnetic Components in power Electronics' - further information will be published soon
19 - 20 February 2020, Grenoble, France
On the website www.ecpe.org up-to-date information on our events as well as the ECPE Calendar of Events with planned events in the future can be found. For employees of ECPE network organisations only: have a look at the internal members area with proceedings, online course, network contacts, studies & much more!