Features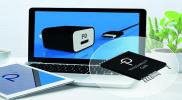 GaN-based switcher ICs empower next-generation power products - issue 1/2020
There have been a number of disruptive advances in the power electronics community over the last 20 years....
More details...
Linear voltage regulators operate at automotive temperatures
Designed for high reliability, high temperature applications, the CMT-Antares is Cissoid's latest regulator.
More details...
Power Electronics Europe Events
ECPE Tutorials
February 13, 2020 - September 25, 2020
ECPE announced the the programme for its new Tutorial 'High-Precision Power Electronics' in April 2020. For more information please click on the title.
Further upcoming tutorials and workshops:
On the ECPE website www.ecpe.org always up-to-date information on events as well as the ECPE Calendar of Events with planned events in the future can be found. For employees of ECPE network organisations only: have a look at the internal members area with proceedings, online course, network contacts, studies & much more!

ECPE European Center for Power Electronics e.V.
Lena Somschor
Events & Website
Landgrabenstrasse 94
D-90443 Nuremberg
Tel: 49 (911) 81 02 88-18
Fax: 49 (911) 81 02 88-28
E-Mail: lena.somschor@ecpe.org
Internet: www.ecpe.org