Features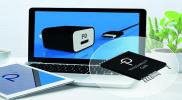 GaN-based switcher ICs empower next-generation power products - issue 1/2020
There have been a number of disruptive advances in the power electronics community over the last 20 years....
More details...
Linear voltage regulators operate at automotive temperatures
Designed for high reliability, high temperature applications, the CMT-Antares is Cissoid's latest regulator.
More details...
Power Electronics Europe Events
APEC 2020 in New Orleans - Cancelled
February 21, 2020 - March 20, 2020
The 35th APEC 2020 was scheduled to be held at the Ernest N. Morial Convention Center in New Orleans with expected 6,000 delegates. The extensive program covers around 500 papers within the Technical Sessions. Workshops, Professional Education, and Exhibitor Seminars complement the event. The Plenary Session addresses issues of immediate and long-term interest. The invited presentations on the Monday, March 16, will open the exhibition.
The Power Sources Manufacturers Association (power@psma.com) and PELS are co-sponsoring a 2 all-day workshop on Capacitors and Power Magnetics already on Saturday March 14. "How to Choose and Define Capacitor Usage for Emerging Applications" - this workshop is designed to bring value to everyone, from newcomers to advanced designers of DC/DC converters, frequency drives, inverters, and other power conversion applications. The 5th "Power Magnetics @ High Frequency" workshop aims to identify the latest improvements in magnetic materials, coil (winding) design, construction and fabrication, evaluation and characterization techniques and modelling and simulation tools. The workshop will target the advancements that are deemed necessary by the participants for power magnetics in order to meet the technical expectations and requirements of new market applications for higher operating frequencies and emerging topologies that are being driven by continuous advances in circuits topologies and semi-conductor devices.
The PSMA Semiconductor Committee is sponsoring a total of four Industry Sessions that address the rapid emergence of wide bandgap semiconductors as a significant power conversion technology. The sessions will take place on Tuesday, Wednesday and Thursday, March 17-19. "SiC and GaN have been the most popular topics at APEC over the past several years. It is clear that the promise that these devices have offered in size and efficiency gains are being realized," said Tim McDonald, Chairman of the PSMA Semiconductor Committee.
The PSMA Magnetics Committee is sponsoring an Industry Session addressing magnetics designs for high-frequency power conversion. Topics in this session include Optimized Inductor Designs for DC/DC Buck Converters from 150 kHz to 3 MHz Using Distributed Gap Core Materials; Flyback Continuous Mode – Planar Transformer Design Tutorial; Combined Inductor and Transformer Design for Resonant Converters; Design Space of Flyback Transformers; Transformer Design Consideration for Full Bridge Phase Shift; From Brute Force Grid Search to Artificial Intelligence: Which Algorithms for Magnetics Optimization?; and Magnetics Design Considerations for Wireless or Contactless Power Transfer for EV Charging and Data Center Servers Directly from MV DC Grid. Ed Herbert, Chair of the Magnetics Industry Session encourages APEC attendees to register and attend this valuable industry session and to consider participating in the other PSMA-sponsored meetings during the week.
The PSMA Packaging Committee is sponsoring an Industry Session titled, "Packaging Power Circuits to Make Small and Reliable Products." Featuring speakers from leading industry and research organizations, the session will present an up-to-date look at current and future packaging and manufacturing technologies utilizing high-density 3D packaging. Co-chairs of the session, Ernie Parker of Crane of Aerospace & Electronics and Brian Narveson of Narveson Consulting, encourage industry professionals to attend the Industry Session on 3D Power Packaging. Parker stated, "This session will provide a valuable opportunity to meet other professionals who are active in the evolving design, reliability and manufacturing of 3D in higher power applications."

An other PSMA Industry Session, "Energy Harvesting Enables the IoT and 5G," features three timely presentations plus a capstone hands-on demonstration period. The session will address the latest developments in this rapidly emerging technology ecosystem that is disruptively increasing in relevance for a wide variety of power electronic applications, particularly IoT where the grand challenge is to get the battery to outlive the IoT edge device. The Energy Harvesting Session (IS11) will be held on Wednesday, March 18, from 8:30 to 10:10 a.m. in the Convention Center, Room R07.
Education and exhibitor seminars
Exhibitor Seminars highlight new products or initiatives that companies in the power electronics industry are developing, along with allowing the opportunity for attendees to interact with other companies in the industry.
The Professional Education Seminars at APEC are three-and-one-half hours in length, can range from broad to narrow in scope, and can vary from introductory to advanced in technical level and they complement the technical papers, the special presentations, and the comprehensive exposition.
Seminars take place in two sessions (morning and afternoon) on Sunday, March 15, and one session on Monday, March 16 (morning only). Subjects include "Fundamentals of Switch-Mode Power Conversion", "High-Frequency Transformers for High-Power Converters", "Full Technology Validation of 600V GaN Power Devices", "Soft Switching Technique for SiC MOSFET Three-Phase Power Conversion", "Isolated Gate Driver ICs in Power Electronics Systems", Advanced 3-Φ Sic/GaN PWM Inverter Concepts for Future Vsd Applications", "Power Electronics Enabled Health-Conscious Battery Management and Fast Charging for E-Transportation", "LLC Calculator — Vector Method as an Application of the Design Oriented Analysis", "Designing Compensators for the Control of Switching Power Supplies", or "High-Efficiency and High-Density Single-Phase PV Inverters with Advanced Topologies, Control and WBG Devices".
One of the guiding forces behind APEC 2020 is Aung Thet Tu, Director of Marketing & Applications at Infineon Technologies USA. He is on the APEC Steering Committee, has been a long-term co-chair of the Professional Education Seminars, and he will also be co-chairing this year's plenary session.
Plenary session topics
The plenary session opens APEC officially on Monday afternoon. According to Tu, the objective is to provide a view of what the future holds for applied power electronics. "We try to mix the industry viewpoint with the academic viewpoint, because both are equally important for APEC. We try to find a balance between the theoretical and the practical. Sometimes, we achieve both on the same topic. We also try to cover different power electronic fields that are trending in the industry. Attendance-wise, we normally get anywhere from a third to half our total registration. Last year, I think, we had close to 2,000. The plenary is kind of like the opening ceremony of the Olympics."
The first plenary speaker - John Kassakian, Professor, Massachusetts Institute of Technology – will talk about "35 Years of APEC and the Path Forward for Applied Power Electronics". The launching of APEC in 1986, and the creation of PELS in 1988 solidified its role in the Institute. Applications have grown rapidly, as have component and manufacturing technologies. Today we are challenged to meet requirements of evolving applications that demand multidisciplinary thinking, high levels of integration, very high efficiencies, high gravimetric and volumetric specific power, and significant cross-field collaboration. Industrial processes, electric vehicles, robotics, decreasing logic voltages, electric aircraft, attention to energy conservation and global warming, and even 5G, are providing power electronics with a fertile and exciting future.
"Power in Automotive: Beyond Just Power" – is the subject of David Dwelley, VP and CTO, Maxim Integrated. Power in automotive entails more than just power. Other important areas to consider are quality and diagnostics, safety, functionality, qualification and documentation. These important items, as well as traditional power performance, need to be designed in at the start. This talk will discuss strategies to create power devices that meet the wide variety of automotive performance requirements.
"Emerging Technologies in Power Electronics" will be introduced by Burak Ozpineci, Group Leader, Power Electronics and Electric Machinery Group, Program Manager, Electric Drive Technologies, Oak Ridge National Laboratory. his talk will focus on electric vehicle drive and charging challenges and approaches to achieving high power densities and fast charging. This talk will also cover the emerging technologies such as additive manufacturing, artificial intelligence/machine learning, cyber security issues, high-performance computing and their use in power electronics.
"Switched Capacitor Power Electronic Converters" will be covered by Robert Pilawa-Podgurski, Professor, University of California Berkeley. Various methods for evaluating hybrid SC converter topologies along with figures of merit for different circuit topologies will be discussed, along with recent examples of high performance hardware prototypes in the area of data center power delivery. This talk will provide examples of how fundamental advancements in academic research have been rapidly picked up in industrial designs, and highlight key areas of research for further power density and efficiency improvements, along with considerations of reliability and cost.
Balu Balakrishnan, CEO, Power Integrations, will focus on "Power Electronics for Consumer Applications". Power converters for consumer products have always been extremely cost sensitive. In recent times, innovations in circuit simplification and integration have worked well to drive costs down, in spite of regulatory pressure to reduce energy waste by improved efficiency and minimized no-load power use. Powerful market forces have emerged which are dramatically increasing the complexity of power supplies – variable output voltage USB-PD, for example – and also increasing the required power density. In fact, due to fast charging and bigger batteries demanded by today's large screen 5G cellphones, the power density needs of USB-PD adapters rival those of servers and other historically bleeding-edge application categories. This presentation details the market forces driving product developments and the response to those demands by semiconductor manufacturers.
Finally, John W. Palmour CTO for Wolfspeed, will talk on "SiC Power Technology: Answering Automotive Readiness". The rapid adoption of SiC is primarily driven by the on-board charger power density requirements and the efficiency advantages in the inverter for the drivetrain in BEVs. The advantages of SiC in these applications will be discussed. For example, SiC offers a 5-10% improvement in efficiency for the motor drive, which results in either extended range for the vehicle for a given battery charge, or a reduction in the battery pack required to go a certain distance. The large number of SiC die required per inverter will drive a requirement for very low failure rates, so the quality expectations for this will also be discussed.
This year over 500 papers make up APEC's Technical Sessions. The technical program includes papers of broad appeal scheduled for presentation from Tuesday (March 17) morning through Thursday (March 19) afternoon. Papers with a more specialized focus for discussion with the authors will be presented at the dialogue session on the Thursday from 11:15 a.m. - 1:45 p.m. AS