Features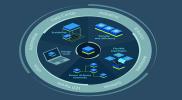 Power of the Module - Nov/Dec 2020
Vicor has established a power module capability spanning product design, manufacturing, simulation and selection tools. This capability allows Vicor to enable power systems designers to quickly and...
More details...
Power Electronics Europe Events
APEC 2021 Rescheduled to June
October 29, 2020 - June 11, 2021
The Applied Power Electronics Conference (APEC) and its sponsors, the IEEE Power Electronics Society (PELS), the IEEE Industry Applications Society (IAS} and the Power Sources Manufacturers Association (PSMA) announced on October 29 that the event will now be held from June 9-13, 2021. The conference had previously been scheduled to take place in March. The location of APEC 2021 will remain, as originally planned, at the Phoenix Arizona Convention Center.
The decision to change the dates of the conference was made after much consideration between sponsors, the city of Phoenix and other stakeholders. By moving to June, the leadership team believes that it will be in a better position to host a safer and more successful in-person event. The committee will continue to assess public health and safety matters in light of the ongoing COVID-19 pandemic and will make any further adjustments, if necessary, in a timely manner. With the change of dates, the organizing committee has reopened the submission process for Technical Papers, Industry Session Presentations and Professional Education Seminars. The revised submission deadlines are now November 23.
Already submitted abstracts to the conference will not need to re-submitted but may amended or updated. The annual APEC event traditionally takes place from Sunday through Thursday. Next year's rescheduled event will begin with Plenary Sessions on Wednesday and continue through Saturday. Detailed updates about the conference schedule, submissions, hotel and travel, other conference-related events, and registration will be posted to the conference website at www.apec-conf.org when they become available.