Features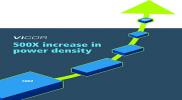 Innovating Power Module Packaging - April/May 21
A systemís power delivery network or PDN is made up of passive and active components such as cables, connectors, AC-DC and DC-DC converters and regulators. As power levels increase to enable new
More details...
Power Electronics Europe Events
APEC 2021 Goes Virtual Again
May 1, 2021 - June 30, 2021
APEC 2021 will be held virtually June 14-17. Access to select recorded content, including Technical Sessions, Industry Sessions, and Professional Education Seminars, will be available begining June 9. During conference week (June 14-17), additional live sessions will be held, including "office hours" for Professional Education Seminars and Q&A panels for Technical and Industry Sessions. Plenary Sessions will be presented during live sessions with a live Q&A with speakers following the presentation. Following the session, Plenary Sessions and Q&As will be available on demand. RAP Sessions will be held live and will not be recorded.
Technical Sessions: The technical program includes papers of broad appeal scheduled for oral presentation. The various technical venues cover all areas of technical interest for the practicing power electronics professional. A PDF of the listing of the papers included in those sessions is available here.
Industry Sessions: Industry Sessions presents information on current topics in power electronics from sources that would not otherwise present at APEC. The target audience for these sessions is also extended to include system engineers/architects and business-oriented people such as purchasing agents, regulatory agencies, along with other people who support the power electronics industry. A PDF of the breakdown of Industry Session Presenter Q&A Panels is available here.
Plenary Sessions: The Plenary Session continues the long-standing tradition of addressing issues of immediate and long-term interest to the practicing power electronic engineer. The APEC plenary presentations typically have been from invited distinguished professionals.
Plenary Sessions on Three days
This year's lineup includes distinguished invited professionals who will share their thoughts on six topics, ranging from automotive and wide bandgap technologies to energy storage and the future of power passives. Content will be presented live and will be recorded.
The presentations start on Monday, June 14, at 9:00 am EDT (15.00 CET) with Auxiliary Automotive Drives Revolutionized by Power Electronics given by Annette Muetze, Univ.-Prof. Dr.-Ing from Graz University of Technology in Austria.
While the impact of power electronics on transportation electrification has risen to the foreground on many fronts, the millions of auxiliary drives used in automotive application have continued to remain one of the industry's best kept secrets hidden under the hood. With more than 100 of such auxiliary drives in typical mid-size and large executive cars, their role in enabling today's modern car's performances is of exceptional importance. Given the additional design freedom and performance spaces opened up by the use of power electronics, the number of such small electric drives in automotive applications has at least doubled over the course of the past two decades. Performance, safety, and comfort related drives become distinguished, and interest has spiked in terms of energy conversion efficiency, size, and cost, as well as when it comes to electromagnetic emission, noise, and fault tolerance. In this talk, we will discuss how these seemingly unnoticed small drives have been completely revolutionized by power electronics, where the beauty and power often emerge in rediscovering simplicity itself. Some examples explored in this talk include meeting the required EMI standards at reduced component counts, a simple drive re-design that can be considered during manufacturing that reduces the generated noise, as well as increasing drive efficiency by reducing the control to its essence.
At 9:45 am EDT (15.45 CET) Edoardo Merli, Power Transistor Macro-Division General Manager and Group Vice President at STMicroelectronics will talk about Wide Bandgap Technologies: Enabling a Broader Power Application Domain
Physical limits prevent current Silicon technology from achieving the greater power density and miniaturization the market needs from power products to meet growing environmental concerns. As an alternative, wide-bandgap (WBG) power products are gaining traction in the market because of their energy efficiency and because they help address many of those environmental issues. For example, SiC and GaN WBG materials, which enable superior overall performance, are helping manufacturers attain remarkable gains in applications like traction inverter for SiC and adaptors/chargers for GaN. Still, Si products should co-exist with the WBG products owing to their cost-effectiveness in some low-power applications or whenever system performance is deemed adequate.
On Tuesday, June 15, 9:00 am EDT (15.00 CET) Stephanie Watts Butler, Texas Instruments; JC-70 Chair; and Peter Friedrichs, Infineon; JC-70.2 Co-Chair; discuss Maturing Wide Bandgap Semiconductors Fosters Standardization
(JEDEC JC-70 addresses unique characteristics and behaviors of WBG).
Wide bandgap semiconductors (SiC and GaN) are recognized for their unique ability to improve performance, efficiency, and power density. Their unique traits are also recognized as driving the need for standardization of reliability, characterization, and datasheet specification. The JEDEC JC-70 Committee for Wide Bandgap Power Electronic Conversion Semiconductors is addressing this need. As wide bandgap products ramp in the market place, standards are also being published by JC-70. This keynote will explore the wide bandgap specific properties being tackled by JC-70. A deeper analysis into GaN device on-resistance and transient behaviors and SiC device threshold voltage and reverse recovery traits will demonstrate how standards for reliability, characterization, and datasheet parameters should be considered together. Progress in key areas will be scrutinized for their ability to address the most critical needs. The keynote concludes by examining how standards are being treated internationally and across the entire application ecosystem.
Also on Tuesday, June 15, 9:45 am EDT (15.45 CET) Stanley Atcitty, Distinguished Member of Technical Staff at Sandia National Laboratories will talk about
Native American Energy Sovereignty: Energy Storage and Power Electronics Benefits.
The DOE Energy Storage Program leads a worldwide effort in addressing energy issues through energy storage R&D for grid-tied and off-grid systems throughout the United States, including on Native American tribal lands. There are currently 574 Native American federally recognized tribes in the United States. Each tribe is a sovereign nation with its own government, traditions, culture, etc., and has a unique relationship with the federal and state governments. Tribal lands total about 5.8% of land area in the conterminous U.S. land. These lands have utility-scale renewable energy production of about 6.5% of the total U.S. national potential and yet 14% of households on Native American reservations have no access to electricity according to the Energy Information Administration. This presentation provides a background on Native American energy sovereignty and shows examples of current DOE Energy Storage Program project in tribal lands.
On Wednesday, June 16, 9:00am EDT (15.00 CET)
The Present and Future of Magnetics and Other Power Passives
will be discussed by Charles R. Sullivan, Professor of Engineering Thayer School of Engineering at Dartmouth.
High switching frequencies in power electronics are motivated by reducing the size, cost and loss of magnetic components. With advances in semiconductor switch technology, higher frequencies are becoming practical, but the typical result is not the ultra-small ultra-efficient magnetics one might hope for: rather, magnetics have become the critical factor limiting power electronics performance. Ways to overcome these limitations will be discussed, including advanced magnetics design and alternatives to the use of conventional magnetic components. One approach is to use high-Q resonators, mechanical or electromagnetic, that have better performance than resonators built from discrete inductors and capacitors, and can be used in both power conversion and wireless power transfer. The future potential and progress to date on these technologies will be reviewed.
Finally at 9:45 am EDT (15.45 CET) Heike Riel, IBM Fellow, Lead IBM Research Quantum Europe & Africa IBM Research will introduce
Quantum Computing - The New Computing Paradigm.
Live RAP Sessions
RAP Sessions allow for dialogue among attendees and presenters and will be presented live during the virtual conference.
Session 1 is entitled Distributed vs. centralized control for micro-grid and nano-grid
to be held on Monday, June 14, 2:00-3:00 pm EDT (18.00 – 19.00 CET) led by session chair Dave Maliniak, Evaluation Engineering.
Panelists are Vipin Bothra, ST Microelectronics: Madhav Manjrekar, University of North Carolina;
Jianhui Wang, Southern Methodist University; Raghavan Nagarajan, Wind and Transmission & Distribution, Infineon; Matt Baker, Microgrids and Critical Power, Typhoon HIL; and Deepak Divan, Georgia Institute of Technology.
Session 2 takes place on Wednesday, June 16, 11:00 -12:00 am EDT (17.00 – 18.00) entitled
Does high level of integration make power converters more reliable or not?
led by Indumini Ranmuthu from Texas Instruments.
Panelists are Robert Pillawa, University of Berkeley; Madhu Chinthavali, Oakridge National Labs;
Sandeep Bahl, Texas Instruments; Huai Wang, Aalborg University; Babak Fahimi, University of Texas Dallas; and Francesco Carobolante, IoTissimo.

Finally Session 3 will be held on Thursday, June 17, 2:00-3:00 pm EDT (18.00-19.00)
Where does the expertise for the next generation of magnetics come from? The Magnetics companies or the engineer designing the power supply?
Session chair is Eric Persson from Infineon (USA) talking with panelists Paul Yeaman, Applications Engineering, Vicor; Dan Jitaru, Rompower; Paul Greenland, Analog Devices; Jim Marinos, Payton Magnetics; Charlie Sullivan, Dartmouth University; and Kevin Enser, Renco Electronics. AS