Features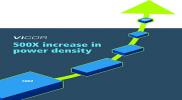 Innovating Power Module Packaging - April/May 21
A systemís power delivery network or PDN is made up of passive and active components such as cables, connectors, AC-DC and DC-DC converters and regulators. As power levels increase to enable new
More details...
Power Electronics Europe Events
ECPE SiC & GaN User Forum + Others
May 20, 2021 - December 10, 2021
The final programme of the ECPE Hybrid SiC & GaN User Forum - Potential of Wide Bandgap Semiconductors in Power Electronic Applications on 30 June - 1 July 2021 is ready. Due to the current COVID-19 situation the the event is organized hybrid. For more information please click on the link.
Further ECPE Events:
*short-term changes from face-to-face to online format are possible.
On the ECPE website www.ecpe.org up-to-date information are listed as well as the registration forms and the ECPE Calendar of Events. For employees of ECPE network organisations only: have a look at the internal members area with proceedings, online course, network contacts, studies & much more!

ECPE European Center for Power Electronics e.V.
Landgrabenstrasse 94
D-90443 Nuremberg
Tel: 49 (911) 81 02 88-0
Fax: 49 (911) 81 02 88-28
E-Mail: info@ecpe.org
Internet: www.ecpe.org