Features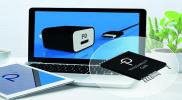 GaN-based switcher ICs empower next-generation power products - issue 1/2020
There have been a number of disruptive advances in the power electronics community over the last 20 years....
More details...
Linear voltage regulators operate at automotive temperatures
Designed for high reliability, high temperature applications, the CMT-Antares is Cissoid's latest regulator.
More details...
Power Electronics Europe Issue Archive
Issue 4 – May/June 2009 - Sinter Technology for Power
April 27, 2009
High-power applications such as automotive, wind, solar and standard industrial drives require power modules which fulfil the demand for high reliability, thermal and electrical ruggedness. These demands are met by deploying state-of-the-art packaging technologies such as solder-free pressure and spring contacts, but also sinter technology. Silver sinter technology has been used to connect chips to substrates since 1994. Even back then, the properties of sintered silver bonding layers and the benefits they boast in terms of reliability were analysed and reported on within the contexts of numerous international congresses. At that time, however, it turned out that this type of bonding technology was not quite ready for use in large-scale industrial electronics. The engineers in SEMIKRON's New Technologies Department thus were challenged to develop, optimise and employ this packaging technology. Full story on page 28.

Download Issue Archive