Features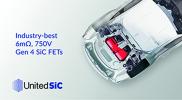 A New Approach to Circuit Breaker Design Using Silicon Carbide Switches - Nov 21
Mechanical circuit breakers can be low cost with minimal losses, but they operate slowly and wear out. Solid state versions overcome the problems and are becoming increasing viable as replacements at...
More details...
Power Electronics Europe Issue Archive
Issue 6 – September 2009 - Key Researches on SIC Drive Technologies
September 4, 2009
SiC has proven to be a good candidate as a material for next generation power semiconductors. To analyse the advantages of SiC based power devices over their silicon counterparts, a high volume and standard application segment such as the 400 to 480VAC line rated motor drives is considered to be ideal. From this viewpoint, the present research work has focussed on 1200V class device technologies. 4H-SiC based MOSFET and SBD structures have been considered to be the best fit device configurations for the targeted application category. New SiC-MOSFET/SBD structures have been developed aiming at high power density applications. Performance details of such newly fabricated SiC devices, along with their evaluation under actual operating conditions, are also introduced.

Download Issue Archive