Features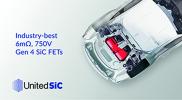 A New Approach to Circuit Breaker Design Using Silicon Carbide Switches - Nov 21
Mechanical circuit breakers can be low cost with minimal losses, but they operate slowly and wear out. Solid state versions overcome the problems and are becoming increasing viable as replacements at...
More details...
Power Electronics Europe Issue Archive
Issue 7 – October 2009 - INVERTER DESIGN - Shunt Current Measuring up to 800A in the Inverter
October 16, 2009
In 2005, Siemens Drive Technologies introduced the first large inverter using shunts for phase current measuring and brought it into series production. It wasn't until recently that the power output was extended to 132kW with the new SINAMICS G120 series. Back then, the joint development between Siemens, Semikron and abellenhütte laid the foundations for being able to measure currents of up to 800A today. This article looks back at past events and takes a glimpse into the future: how was this technological change successful and what possibilities do future developments have to offer?

Download Issue Archive