Features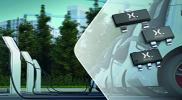 New Developments in RET Technology - Feb/March 2021
Resistor-Equipped Transistors (RETs) – also known as digital transistors or pre-bias transistors – offer many benefits, including saving space, reducing manufacturing costs and increased...
More details...
Power Electronics Europe Issue Archive
Issue 3 – APRIL 2009 - 3rd Generation Silicon Carbide
March 30, 2009
A new generation of silicon carbide Schottky diodes in 600 and 1200V blocking voltage class has recently been introduced by Infineon Technologies. A reduction of device capacitances and improved thermal coupling chip to package extend diode performance limits as well as cost-effectiveness. This article outlines how the recent innovations in SiC diodes now pave the way for benchmark efficiency in a number of power conversion solutions such as power factor correction in switched mode power supplies used in computing, telecommunication, LCD-TV and lighting, as well as solar inverters and motor drives.

Download Issue Archive