Featured Articles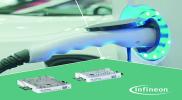 Design considerations for fast DC chargers targeting 350 Kilowatt - issue 2/2019
Working groups within standards organisations have, around the world, defined everything from the operational envelope and charging sequence, to the communication and connectors of High Power...
More details...
Linear voltage regulators operate at automotive temperatures
Designed for high reliability, high temperature applications, the CMT-Antares is Cissoid's latest regulator.
More details...
Welcome to Power Electronics Europe
Power Electronics Europe is the premier publication devoted entirely to the field of power electronics. The journal covers all that is new in power electronics including emerging technologies and the application of advanced components, sub-assemblies, systems and solutions. By clicking on the navigation buttons above you will be directed to the relevant sections within this web site. In the Product Information and Archives sections you will find a host of topics covered - all of which may be searched for by category.


Next Generation of Precision Power Analyzers for Drives and EV Technology - issue 2/2019
As renewable energy, electric vehicles and energy efficient technologies gain wider adoption, the need for reliability in testing efficiency, performance and safety is greatly increasing...
Read more
Electric Vehicle Fast Charging Challenges - issue 1/2019
With the pressure on governments to reduce carbon emissions continuing the interest in battery electric vehicles (BEV) continues to grow as part of the solution to this challenge...
Read more