Featured Articles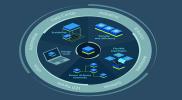 Power of the Module - Nov/Dec 2020
Vicor has established a power module capability spanning product design, manufacturing, simulation and selection tools. This capability allows Vicor to enable power systems designers to quickly and...
More details...
Welcome to Power Electronics Europe
Power Electronics Europe is the premier publication devoted entirely to the field of power electronics. The journal covers all that is new in power electronics including emerging technologies and the application of advanced components, sub-assemblies, systems and solutions. By clicking on the navigation buttons above you will be directed to the relevant sections within this web site. In the Product Information and Archives sections you will find a host of topics covered - all of which may be searched for by category.


Flying Capacitor Topology for Ultra Efficient Inverter Applications - Nov/Dec 2020
High efficiency and reduced effort for filtering are the main arguments for three-level (3L) topologies. Actually, there are several 3L topologies used in solar applications. The limitation of all Neutral Point Clamped (NPC) three-level topologies is the fact that a 150 Hz ripple has to be filtered with DC capacitors, which are independent on the frequency of the Pulse With Modulation (PWM). With high frequency and utilization of SiC semiconductors it is possible to reduce the size of the output
Read more
GaN in Space Applications - Nov/Dec 2020
Gallium nitride power device technology enables a new generation of power converters in space operating at higher frequencies, higher efficiencies, and greater power densities than ever achievable before. GaN power devices can also exhibit superior radiation tolerance compared with Silicon MOSFETs depending upon their device design.
Read more
Maximize Gains Using Miniaturized PoL Converters - Nov/Dec 2020
System power requirements today are challenging, with designers needing to overcome issues such as multiple supply voltages, voltage sequencing, high transient load currents, and excessive heat. Rather than address these problems at the system power supply, it is more beneficial to introduce measures at the PCB (printed circuit board) level, meaning some form of point-of-load (PoL) converter is required...
Read more
Evaluating Three Key Pieces of a SiC Total System Solution - October 2020
Following a rapid expansion of SiC product options, the industry's next challenge is simplifying the design-in process for end users. Power system developers need holistic solutions that address not only typical design elements individually but which recognise the importance of their interactions...
Read more