Featured Articles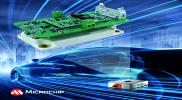 Evaluating Three Key Pieces of a SiC Total System Solution - October 2020
Following a rapid expansion of SiC product options, the industry's next challenge is simplifying the design-in process for end users. Power system developers need holistic solutions that address not...
More details...
Linear voltage regulators operate at automotive temperatures
Designed for high reliability, high temperature applications, the CMT-Antares is Cissoid's latest regulator.
More details...
Welcome to Power Electronics Europe
Power Electronics Europe is the premier publication devoted entirely to the field of power electronics. The journal covers all that is new in power electronics including emerging technologies and the application of advanced components, sub-assemblies, systems and solutions. By clicking on the navigation buttons above you will be directed to the relevant sections within this web site. In the Product Information and Archives sections you will find a host of topics covered - all of which may be searched for by category.


Power Adapters Slim Down with GaN - October 2020
Easy portability and a slim or compact outline are great design goals for external power adapters. In practice, success is always limited by the need for thermal management (large heatsinks) to ensure
reliability and relatively large filter components to stabilize and smooth the DC power at the output.
Advanced GaN power-semiconductor technology reduce size, weight, and increase energy-efficiency advantages...
Read more
Modern Clamping Systems for Tests of Power Semiconductor Devices with 15 kN Force- Oct 2020
Power semiconductor devices have many parameters and characteristics that must be measured using specialised equipment. Design of such equipment must account for many factors such as reliability,
flexibility, ergonomics, and attention to overall aesthetics....
Read more
New Inverters for Efficient EV Battery Charging and Solar Energy Generation -August 2020
The race for power conversion efficiency over 99 % continues. New innovative topologies are competing with the standard half-bridge topology using SiC and GaN semiconductor technologies. Requirements for high-efficient power conversion both unidirectional and bidirectional are getting standard in the wide field of applications ranging from EV battery chargers, solar inverters and UPS to industrial drives with built-in or separate PFC..
Read more
MPPT IC Li-Ion Battery Charger System - August 2020
In an era characterized by the internet of things (IoT), more connectivity means more outdoor devices are now battery-powered and constantly communicating. In particular, an increasing number of outdoor devices are being powered through solar panels. The charger should be suitable for maximum power point tracking (MPPT) in outdoor designs with a solar panel...
Read more