Featured Articles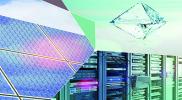 SiC MOSFETs for Bridge topologies in three-phase power conversion - issue 6/2019
Efficiency, productivity and legislation are the main drivers in power applications today. Making more out of less energy and saving costs is putting a greater focus on better conversion efficiency...
More details...
Linear voltage regulators operate at automotive temperatures
Designed for high reliability, high temperature applications, the CMT-Antares is Cissoid's latest regulator.
More details...
Welcome to Power Electronics Europe
Power Electronics Europe is the premier publication devoted entirely to the field of power electronics. The journal covers all that is new in power electronics including emerging technologies and the application of advanced components, sub-assemblies, systems and solutions. By clicking on the navigation buttons above you will be directed to the relevant sections within this web site. In the Product Information and Archives sections you will find a host of topics covered - all of which may be searched for by category.


High-Voltage boost and Inverting converters for communications - issue 6/2019
The field of electronic communications is rapidly expanding into every aspect of ordinary life...
Read more
Power Capacitor Technologies for WBG Power Semiconductors - issues 6/2019
In the field of power electronics conventional semiconductors based on Silicon are increasingly being replaced by wide band-gap (WBG) technologies based on GaN and SiC...
Read more
Integrated Battery-Charging Solution with Power Path Management - issue 5/2019
A new single coil power management IC with flexible configuration, rich functions and high efficiency integrates as many analog circuits as possible...
Read more