Featured Articles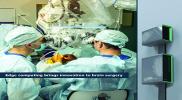 Edge Computing Leverages Modular Power in Scalable Micro Data Centres - May 2022
Edge computing is essential to realizing the full potential of artificial intelligence (AI), machine learning and internet of things (IoT). These technologies are being infused into every corner of...
More details...
Welcome to Power Electronics Europe
Power Electronics Europe is the premier publication devoted entirely to the field of power electronics. The journal covers all that is new in power electronics including emerging technologies and the application of advanced components, sub-assemblies, systems and solutions. By clicking on the navigation buttons above you will be directed to the relevant sections within this web site. In the Product Information and Archives sections you will find a host of topics covered - all of which may be searched for by category.


Optimizing the Switching Stage in Wind Power Applications - May 2022
Efficient power conversion is an important part of maximizing the cost-effectiveness of the switching stage in a wind-powered generator. Much effort has been expended in maximizing switching efficiency with excellent results. In this article, we will look at optimizing the utilization of the switches to increase the
amount of power that can be processed by a given system.
Read more
Range Extension Promise of SiC in Traction Inverters - May 2022
There are two major disruptions currently affecting the future of vehicular transport and semiconductor technology. We are embracing a new and exciting means to propel our vehicles cleanly with electrical power, while simultaneously re-engineering the semiconductor materials that underpin electric vehicle (EV)
subsystems to maximize power efficiency and, in turn, EV driving range.
Read more
Enhancing Power Conversion from Watts to Megawatts with 1700 V SiC MOSFETs - May 2022
In the world of power electronics, bigger is never better. This holds particularly true for high-voltage power systems, where designers are clamouring for better semiconductor technology to meet customer demand for converters that are smaller, lighter, more reliable and efficient, and less expensive. With Silicon MOSFETs
and IGBTs, compromises must be made; for example, one must select either the most reliable design or the most efficient design, but not both...
Read more