Featured Articles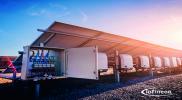 Benefits of CoolSiC MOSFETs in Bi-Directional Inverter Applications - July 2021
With the move to renewable energy, there is an increased focus not only on generation but also storage, to make the most of the intermittent supply from wind and solar. Batteries are the common...
More details...
Welcome to Power Electronics Europe
Power Electronics Europe is the premier publication devoted entirely to the field of power electronics. The journal covers all that is new in power electronics including emerging technologies and the application of advanced components, sub-assemblies, systems and solutions. By clicking on the navigation buttons above you will be directed to the relevant sections within this web site. In the Product Information and Archives sections you will find a host of topics covered - all of which may be searched for by category.


Innovating Power Module Packaging - May 21
A systemís power delivery network or PDN is made up of passive and active components such as cables, connectors, AC-DC and DC-DC converters and regulators. As power levels increase to enable new
features and the electrification of mechanical and hydraulic systems, PDN performance is becoming more critical, and in some cases, constraining end system capabilities because of PDN footprint, weight and power losses.
Read more
Powering Low-Power Sensors for the Internet of Things - May 2021
Low-power sensors for the Internet of Things will be embedded into streets, offices and factories to collect data for years and share it with the cloud, most likely wirelessly. The use of batteries as a power source is one of the key areas developers have to address. It comprises many issues around limited lifetimes, product sustainability, manufacturing materials, shipment issues and the disposal of the battery at the end of its life.
Read more
Novel GaN Design Reduces Volume of AC/DC Converters Substantially - May 2021
Power Integrations recently released a GaN-based IC called MinE-CAP, intended for use in a new generation of mobile credit card-sized chargers or offline power supplies. By halving the size of the high-voltage bulk electrolytic capacitors required in offline power supplies, this IC enables a reduction in adapter size of up to 40%. The device also reduces in-rush current making NTC thermistors unnecessary, increasing system efficiency and reducing heat dissipation.
Read more
GaN Raises Electric Vehicle Powertrain Performance - April/May 2021
In recent years, the number of electric vehicles (EVs) have multiplied on our global roads. Industry analysts expect that 56 million new EVs will be sold in 2040. The electricity consumption that accompanies this growth will rise to 1,800 TWh, representing 5% of global power according to Bloomberg NEFís Electric Vehicle
Outlook. A smart, smaller, lighter-weight powertrain is a key area in creating changes for the EV industry.
Read more