Featured Articles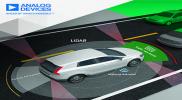 Powering the future of Autonomous driving - issue 4/2019
Analog Devices announced mid July a collaboration with First Sensor AG to develop products aimed at speeding the launch of autonomous sensing technology serving unmanned automotive, aerial and...
More details...
Linear voltage regulators operate at automotive temperatures
Designed for high reliability, high temperature applications, the CMT-Antares is Cissoid's latest regulator.
More details...
Welcome to Power Electronics Europe
Power Electronics Europe is the premier publication devoted entirely to the field of power electronics. The journal covers all that is new in power electronics including emerging technologies and the application of advanced components, sub-assemblies, systems and solutions. By clicking on the navigation buttons above you will be directed to the relevant sections within this web site. In the Product Information and Archives sections you will find a host of topics covered - all of which may be searched for by category.


Decentralized controller for a multilevel Flying Cap converter - issue 4/2019
This awarded paper for Young Engineers presents a decentralized method to balance the capacitor voltages of a Flying-Cap converter....
Read more
Field Control Leads to Better AC Motor Efficiency - issue 4/2019
Many of AC motor designs are relatively low cost and easy to drive. They are also quite inefficient in terms of energy, particularly at low speeds...
Read more
Elegant Hot-Swap Solution for server design - issue 4/2019
The need to implement protections and control circuits is a crucial design requirement in datacenter servers, telecom systems and networking equipment applications..
Read more