Featured Articles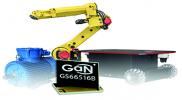 Power GaN can revolutionise the industrial world - issue 3/2019
Industry 4.0 brings rise to an era of smart factory floors that synergize mass production capabilities with automation, robotics and M2M communication....
More details...
Linear voltage regulators operate at automotive temperatures
Designed for high reliability, high temperature applications, the CMT-Antares is Cissoid's latest regulator.
More details...
Welcome to Power Electronics Europe
Power Electronics Europe is the premier publication devoted entirely to the field of power electronics. The journal covers all that is new in power electronics including emerging technologies and the application of advanced components, sub-assemblies, systems and solutions. By clicking on the navigation buttons above you will be directed to the relevant sections within this web site. In the Product Information and Archives sections you will find a host of topics covered - all of which may be searched for by category.


High Power module platform for automotive traction applications - issue 3/2019
A paper on a novel power semiconductor module platform for the automotive powertrain was awarded as the best PCIM 2019 paper....
Read more
GaN based high-density unregulated 48V LLC converters - issue 3/2019
Two-stage 48V voltage regulator module (VRM) with unregulated first stage DC/DC converter providing intermediate bus voltage followed by multi-phase buck converter has proven to be a scalable and efficient approach for 48V rack architecture in data centers..
Read more
Direct Cooled Low Inductive SiC Mold Module - issue 3/2019
To make use of the superior properties of wide bandgap (WBG) semiconductors, power modules are needed with optimised parasitic electromagnetic properties, a high temperature capability and the possibility for a high degree of integration...
Read more