Features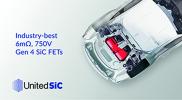 A New Approach to Circuit Breaker Design Using Silicon Carbide Switches - Nov 21
Mechanical circuit breakers can be low cost with minimal losses, but they operate slowly and wear out. Solid state versions overcome the problems and are becoming increasing viable as replacements at...
More details...
Power Electronics Europe Magazine
If you would like to be considered for a free subscription to the Power Electronics Europe magazine, please complete all sections of this form. Please be sure to include Post Code, a valid answer to the security question provided and the date. Failure to supply all the information required within this form will result in a delay processing your application.
Please note:

1. Any enquiries made regarding your application, we will require the answer to the security question from you prior to answering any questions you may have about the application.