Features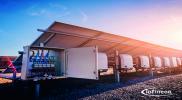 Benefits of CoolSiC MOSFETs in Bi-Directional Inverter Applications - July 2021
With the move to renewable energy, there is an increased focus not only on generation but also storage, to make the most of the intermittent supply from wind and solar. Batteries are the common...
More details...
Power Electronics Europe Magazine
If you would like to be considered for a free subscription to the Power Electronics Europe magazine, please complete all sections of this form. Please be sure to include Post Code, a valid answer to the security question provided and the date. Failure to supply all the information required within this form will result in a delay processing your application.
Please note:

1. Any enquiries made regarding your application, we will require the answer to the security question from you prior to answering any questions you may have about the application.