Features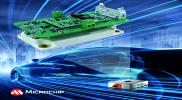 Evaluating Three Key Pieces of a SiC Total System Solution - October 2020
Following a rapid expansion of SiC product options, the industry's next challenge is simplifying the design-in process for end users. Power system developers need holistic solutions that address not...
More details...
Linear voltage regulators operate at automotive temperatures
Designed for high reliability, high temperature applications, the CMT-Antares is Cissoid's latest regulator.
More details...
Power Electronics Europe Magazine
If you would like to be considered for a free subscription to the Power Electronics Europe magazine, please complete all sections of this form. Please be sure to include Post Code, a valid answer to the security question provided and the date. Failure to supply all the information required within this form will result in a delay processing your application.
Please note:

1. Any enquiries made regarding your application, we will require the answer to the security question from you prior to answering any questions you may have about the application.