Features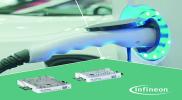 Design considerations for fast DC chargers targeting 350 Kilowatt - issue 2/2019
Working groups within standards organisations have, around the world, defined everything from the operational envelope and charging sequence, to the communication and connectors of High Power...
More details...
Linear voltage regulators operate at automotive temperatures
Designed for high reliability, high temperature applications, the CMT-Antares is Cissoid's latest regulator.
More details...
Power Electronics Europe Magazine
If you would like to be considered for a free subscription to the Power Electronics Europe magazine, please complete all sections of this form. Please be sure to include Post Code, a valid answer to the security question provided and the date. Failure to supply all the information required within this form will result in a delay processing your application.
Please note:

1. Any enquiries made regarding your application, we will require the answer to the security question from you prior to answering any questions you may have about the application.