Features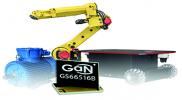 Power GaN can revolutionise the industrial world - issue 3/2019
Industry 4.0 brings rise to an era of smart factory floors that synergize mass production capabilities with automation, robotics and M2M communication....
More details...
Linear voltage regulators operate at automotive temperatures
Designed for high reliability, high temperature applications, the CMT-Antares is Cissoid's latest regulator.
More details...
Feature Spotlight
Next Generation of Precision Power Analyzers for Drives and EV Technology - issue 2/2019
April 23, 2019

As renewable energy, electric vehicles and energy efficient technologies gain wider adoption, the need for reliability in testing efficiency, performance and safety is greatly increasing...

Download PDF