Features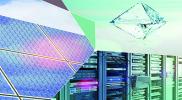 SiC MOSFETs for Bridge topologies in three-phase power conversion - issue 6/2019
Efficiency, productivity and legislation are the main drivers in power applications today. Making more out of less energy and saving costs is putting a greater focus on better conversion efficiency...
More details...
Linear voltage regulators operate at automotive temperatures
Designed for high reliability, high temperature applications, the CMT-Antares is Cissoid's latest regulator.
More details...
Feature Spotlight
Next Generation of Precision Power Analyzers for Drives and EV Technology - issue 2/2019
April 23, 2019

As renewable energy, electric vehicles and energy efficient technologies gain wider adoption, the need for reliability in testing efficiency, performance and safety is greatly increasing...

Download PDF