Features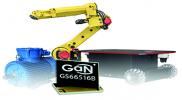 Power GaN can revolutionise the industrial world - issue 3/2019
Industry 4.0 brings rise to an era of smart factory floors that synergize mass production capabilities with automation, robotics and M2M communication....
More details...
Linear voltage regulators operate at automotive temperatures
Designed for high reliability, high temperature applications, the CMT-Antares is Cissoid's latest regulator.
More details...
Feature Spotlight
High Power module platform for automotive traction applications - issue 3/2019
June 26, 2019

A paper on a novel power semiconductor module platform for the automotive powertrain was awarded as the best PCIM 2019 paper....

Download PDF