Features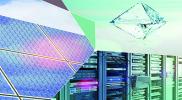 SiC MOSFETs for Bridge topologies in three-phase power conversion - issue 6/2019
Efficiency, productivity and legislation are the main drivers in power applications today. Making more out of less energy and saving costs is putting a greater focus on better conversion efficiency...
More details...
Linear voltage regulators operate at automotive temperatures
Designed for high reliability, high temperature applications, the CMT-Antares is Cissoid's latest regulator.
More details...
Feature Spotlight
High-Voltage boost and Inverting converters for communications - issue 6/2019
December 9, 2019

The field of electronic communications is rapidly expanding into every aspect of ordinary life...

Download PDF