Features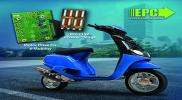 Integrated GaN Power Stage for eMobility - issue 2/2020
Brushless DC (BLDC) motors are a popular choice and are finding increasing application in robotics, drones, electric bicycles, and electric scooters. All these applications are particularly sensitive...
More details...
Linear voltage regulators operate at automotive temperatures
Designed for high reliability, high temperature applications, the CMT-Antares is Cissoid's latest regulator.
More details...
Feature Spotlight
A technology conquers power-hungry applications - issue 2/2020
June 15, 2020

Gallium Nitride (GaN) power devices have opened many new applications since their commercial availability began in 2010. the superior switching speed of GaN devices and, as a result, their low switching losses gave the starting signal for the development of new applications such as lidar (light detection and ranging) sensors and resonant wireless power..

Download PDF