Features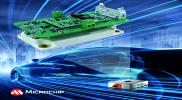 Evaluating Three Key Pieces of a SiC Total System Solution - October 2020
Following a rapid expansion of SiC product options, the industry's next challenge is simplifying the design-in process for end users. Power system developers need holistic solutions that address not...
More details...
Linear voltage regulators operate at automotive temperatures
Designed for high reliability, high temperature applications, the CMT-Antares is Cissoid's latest regulator.
More details...
Feature Spotlight
Factorized Power Accelerates Coral Reef Restoration -issue 3/2020
July 6, 2020

According to the latest figures over 70% of the world's coastlines are eroding, with 200 million people worldwide reliant on the protection that coral reefs offer. With 99% of remaining reefs projected to disappear by 2040, communities and livelihoods are at risk in areas such as Mexico, Indonesia and numerous smaller island habitats around the world. CCell uses renewable energy sources such as solar, wind and wave energy to power their reef growing systems...

Download PDF