Features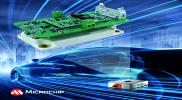 Evaluating Three Key Pieces of a SiC Total System Solution - October 2020
Following a rapid expansion of SiC product options, the industry's next challenge is simplifying the design-in process for end users. Power system developers need holistic solutions that address not...
More details...
Linear voltage regulators operate at automotive temperatures
Designed for high reliability, high temperature applications, the CMT-Antares is Cissoid's latest regulator.
More details...
Feature Spotlight
Modern Clamping Systems for Tests of Power Semiconductor Devices with 15 kN Force- Oct 2020
September 30, 2020

Power semiconductor devices have many parameters and characteristics that must be measured using specialised equipment. Design of such equipment must account for many factors such as reliability,
flexibility, ergonomics, and attention to overall aesthetics....

Download PDF