Features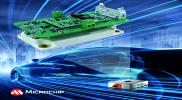 Evaluating Three Key Pieces of a SiC Total System Solution - October 2020
Following a rapid expansion of SiC product options, the industry's next challenge is simplifying the design-in process for end users. Power system developers need holistic solutions that address not...
More details...
Linear voltage regulators operate at automotive temperatures
Designed for high reliability, high temperature applications, the CMT-Antares is Cissoid's latest regulator.
More details...
Feature Spotlight
Power Adapters Slim Down with GaN - October 2020
September 30, 2020

Easy portability and a slim or compact outline are great design goals for external power adapters. In practice, success is always limited by the need for thermal management (large heatsinks) to ensure
reliability and relatively large filter components to stabilize and smooth the DC power at the output.
Advanced GaN power-semiconductor technology reduce size, weight, and increase energy-efficiency advantages...

Download PDF