Features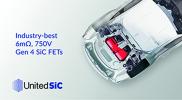 A New Approach to Circuit Breaker Design Using Silicon Carbide Switches - Nov 21
Mechanical circuit breakers can be low cost with minimal losses, but they operate slowly and wear out. Solid state versions overcome the problems and are becoming increasing viable as replacements at...
More details...
Feature Spotlight
Powering Low-Power Sensors for the Internet of Things - May 2021
April 22, 2021

Low-power sensors for the Internet of Things will be embedded into streets, offices and factories to collect data for years and share it with the cloud, most likely wirelessly. The use of batteries as a power source is one of the key areas developers have to address. It comprises many issues around limited lifetimes, product sustainability, manufacturing materials, shipment issues and the disposal of the battery at the end of its life.

Download PDF