Features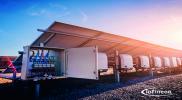 Benefits of CoolSiC MOSFETs in Bi-Directional Inverter Applications - July 2021
With the move to renewable energy, there is an increased focus not only on generation but also storage, to make the most of the intermittent supply from wind and solar. Batteries are the common...
More details...
Feature Spotlight
Powering Low-Power Sensors for the Internet of Things - May 2021
April 22, 2021

Low-power sensors for the Internet of Things will be embedded into streets, offices and factories to collect data for years and share it with the cloud, most likely wirelessly. The use of batteries as a power source is one of the key areas developers have to address. It comprises many issues around limited lifetimes, product sustainability, manufacturing materials, shipment issues and the disposal of the battery at the end of its life.

Download PDF