Features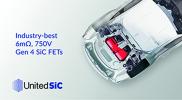 A New Approach to Circuit Breaker Design Using Silicon Carbide Switches - Nov 21
Mechanical circuit breakers can be low cost with minimal losses, but they operate slowly and wear out. Solid state versions overcome the problems and are becoming increasing viable as replacements at...
More details...
Feature Spotlight
Benefits of CoolSiC MOSFETs in Bi-Directional Inverter Applications - July 2021
June 29, 2021

With the move to renewable energy, there is an increased focus not only on generation but also storage, to make the most of the intermittent supply from wind and solar. Batteries are the common solution and costs are dropping, driven by the technology improvements stemming from the EV market. This opens up
opportunities for energy storage at any scale, from domestic to utility..

Download PDF