Features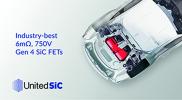 A New Approach to Circuit Breaker Design Using Silicon Carbide Switches - Nov 21
Mechanical circuit breakers can be low cost with minimal losses, but they operate slowly and wear out. Solid state versions overcome the problems and are becoming increasing viable as replacements at...
More details...
Feature Spotlight
Designing Transformer Coupled Gate Drive Circuits and Gate Drive Transformers - Nov 21
October 25, 2021

Metal oxide semiconductor field effect transistor (MOSFET) and Insulated gate bipolar transistor (IGBT) are amongst the most popular, efficient semiconductor devices for switching power supplies. For medium to high power switching applications, dedicated gate drivers are essential, because it would take too long to charge the gate capacitance for the gate of a power switch to be driven by the output of a logic IC...

Download PDF