Features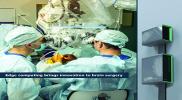 Edge Computing Leverages Modular Power in Scalable Micro Data Centres - May 2022
Edge computing is essential to realizing the full potential of artificial intelligence (AI), machine learning and internet of things (IoT). These technologies are being infused into every corner of...
More details...
Feature Spotlight
Designing Transformer Coupled Gate Drive Circuits and Gate Drive Transformers - Nov 21
October 25, 2021

Metal oxide semiconductor field effect transistor (MOSFET) and Insulated gate bipolar transistor (IGBT) are amongst the most popular, efficient semiconductor devices for switching power supplies. For medium to high power switching applications, dedicated gate drivers are essential, because it would take too long to charge the gate capacitance for the gate of a power switch to be driven by the output of a logic IC...

Download PDF