Features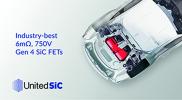 A New Approach to Circuit Breaker Design Using Silicon Carbide Switches - Nov 21
Mechanical circuit breakers can be low cost with minimal losses, but they operate slowly and wear out. Solid state versions overcome the problems and are becoming increasing viable as replacements at...
More details...
Feature Spotlight
Is the 12V Lead-Acid Battery Dead? - Nov 21
October 25, 2021

Yes, the 12 V lead-acid car battery is dead. Europe has decreed that no new cars will have lead-acid batteries after 2030, creating a considerable challenge for OEMs to find alternative solutions. While this may seem like a daunting task, it also presents a tremendous opportunity to eliminate the environmentally toxic battery while also reducing weight in a vehicle and improving overall efficiency..

Download PDF