Features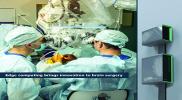 Edge Computing Leverages Modular Power in Scalable Micro Data Centres - May 2022
Edge computing is essential to realizing the full potential of artificial intelligence (AI), machine learning and internet of things (IoT). These technologies are being infused into every corner of...
More details...
Feature Spotlight
Is the 12V Lead-Acid Battery Dead? - Nov 21
October 25, 2021

Yes, the 12 V lead-acid car battery is dead. Europe has decreed that no new cars will have lead-acid batteries after 2030, creating a considerable challenge for OEMs to find alternative solutions. While this may seem like a daunting task, it also presents a tremendous opportunity to eliminate the environmentally toxic battery while also reducing weight in a vehicle and improving overall efficiency..

Download PDF