Features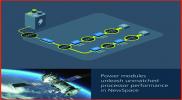 NewSpace demands low voltage, high current power for performance and longevity - Nov 2022
Matt Renola, Senior Director, Global Business Development – Aerospace & Defense
More details...
Feature Spotlight
GaN Power Behind Mild Hybrid Vehicle Electrification - November 2022
November 7, 2022

The hybrid vehicle market has more than doubled from 2017 from 2.0 to 5.1 percent [1] and by 2025, one of every 10 vehicles sold worldwide is projected to be a 48 V mild hybrid. 48 V systems boost fuel efficiency, deliver four times the power without increasing engine size, and reduce carbon-dioxide emissions without
increasing system costs.

Download PDF