Features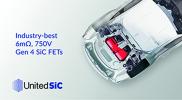 A New Approach to Circuit Breaker Design Using Silicon Carbide Switches - Nov 21
Mechanical circuit breakers can be low cost with minimal losses, but they operate slowly and wear out. Solid state versions overcome the problems and are becoming increasing viable as replacements at...
More details...
Power Electronics Europe Issue Archive
Issue 3 2008 - AUTOMOTIVE CURRENT SENSING
April 16, 2008
Increasing demand for gas, price rise and environmental concerns are driving a market that is in need of alternative solutions. The advantage that a HEV offers with regard to construction and design aspects is that the engine designed in a HEV is small, which makes these vehicles more efficient. Electric cars such as G-Wiz, Sakura and NICE, along with hybrid cars including Toyota Prius, Honda Civic, Lexus RX, and GS Hybrids, are exempted from the London Congestion Charges. This exemption would enable commuters to potentially save over £1600 when they drive in and out of the city center. Such promotional features are likely to boost EV and HEV markets.

Download Issue Archive