Features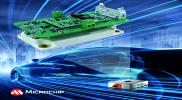 Evaluating Three Key Pieces of a SiC Total System Solution - October 2020
Following a rapid expansion of SiC product options, the industry's next challenge is simplifying the design-in process for end users. Power system developers need holistic solutions that address not...
More details...
Linear voltage regulators operate at automotive temperatures
Designed for high reliability, high temperature applications, the CMT-Antares is Cissoid's latest regulator.
More details...
Power Electronics Europe Issue Archive
Issue 4 2008 - POWER SEMICONDUCTORS
May 23, 2008
Selecting the best IGBT for an application can be confusing and time-consuming, so is it worth the time? In this article, we will attempt to simplify the selection process by providing an explanation for the trade-offs to be considered. To illustrate the benefits, the author will describe the performance improvement possible with a new generation of 600V IGBTs targeted for DC/AC inverter applications. By using optimised trench IGBTs, IR can improve efficiency or reduce system heatsink size or increase current density out of the same board ass embly.

Download Issue Archive