Features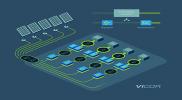 Factorized Power Accelerates Coral Reef Restoration -issue 3/2020
According to the latest figures over 70% of the world's coastlines are eroding, with 200 million people worldwide reliant on the protection that coral reefs offer. With 99% of remaining reefs...
More details...
Linear voltage regulators operate at automotive temperatures
Designed for high reliability, high temperature applications, the CMT-Antares is Cissoid's latest regulator.
More details...
Power Electronics Europe Issue Archive
Issue 4 2008 - POWER SEMICONDUCTORS
May 23, 2008
Selecting the best IGBT for an application can be confusing and time-consuming, so is it worth the time? In this article, we will attempt to simplify the selection process by providing an explanation for the trade-offs to be considered. To illustrate the benefits, the author will describe the performance improvement possible with a new generation of 600V IGBTs targeted for DC/AC inverter applications. By using optimised trench IGBTs, IR can improve efficiency or reduce system heatsink size or increase current density out of the same board ass embly.

Download Issue Archive