Features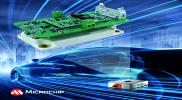 Evaluating Three Key Pieces of a SiC Total System Solution - October 2020
Following a rapid expansion of SiC product options, the industry's next challenge is simplifying the design-in process for end users. Power system developers need holistic solutions that address not...
More details...
Linear voltage regulators operate at automotive temperatures
Designed for high reliability, high temperature applications, the CMT-Antares is Cissoid's latest regulator.
More details...
Power Electronics Europe Issue Archive
Issue 6 2008 - OPTIMISED UTILIZATION OF IGBTS BY PLUG-AND-PLAYDRIVERS
October 14, 2008
The extremely compact and high-performance IGBTs of the PrimePACK series from Infineon Technologies AG enable scalable power converter system solutions optimised for various industrial drives, windmills, elevators, traction and auxiliary drives. SCALE-2 IGBT drivers make a perfect match for scaling power and controlled efficiency. Thanks to SCALE-2 technology, the new 2SP0320 family comprises complete and extremely compact two-channel IGBT drivers equipped with DC/DC converters, short-circuit protection, advanced active clamping and supply-voltage monitoring. Users need only mount them onto the corresponding IGBT module. The system can then be put into immediate operation with no further development or matching effort. Full story on page 18.

Download Issue Archive