Features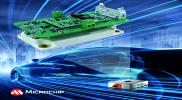 Evaluating Three Key Pieces of a SiC Total System Solution - October 2020
Following a rapid expansion of SiC product options, the industry's next challenge is simplifying the design-in process for end users. Power system developers need holistic solutions that address not...
More details...
Linear voltage regulators operate at automotive temperatures
Designed for high reliability, high temperature applications, the CMT-Antares is Cissoid's latest regulator.
More details...
Power Electronics Europe Issue Archive
Issue 2 2009 - DISTRIBUTED POWER
March 13, 2009
For high-end IT and telecom applications, the conventional approach to power conversion involves an AC/DC silver box followed by 12V-to-1.x V synchronous buck converter. This approach has inherent limitations in terms of system efficiency, due to a combination of distribution bus losses and fundamental restrictions in topology performance as processor voltages reach sub-volt levels. Recent advances in power train technology can better meet such power conversion demands by, for example, eliminating step-down stages and enabling direct 48V to-load conversion. Higher (48V or 50/380V) bus voltages reduce distribution losses, but usually mean the addition of an extra stage or stages to get down to the processor voltages, which may lower conversion efficiencies. The approach of Factorized Power Architecture (FPA) improve high power system efficiency. Full story on p 29.

Download Issue Archive