Features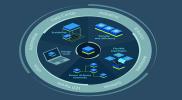 Power of the Module - Nov/Dec 2020
Vicor has established a power module capability spanning product design, manufacturing, simulation and selection tools. This capability allows Vicor to enable power systems designers to quickly and...
More details...
Power Electronics Europe News
EPC announces the introduction of a laser driver
The new GaN device integrates a 40 V, 10 A FET with integrated gate driver and 3.3 logic level input in a single chip for time-of-flight (ToF) lidar systems used in robotics, surveillance systems, drones, autonomous cars, and vacuum cleaners.
The EPC21601 is the first offering in what will be a wide-range family of integrated laser drive ICs available in chip-scale package (CSP). Integrated devices in a single chip are easier to design, easier to layout, easier to assemble, save space on the PCB, increase efficiency, and reduce cost. This family of products will enable faster adoption and increased ubiquity of ToF solutions across a wider array of end-user applications.