Features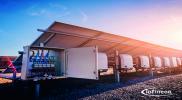 Benefits of CoolSiC MOSFETs in Bi-Directional Inverter Applications - July 2021
With the move to renewable energy, there is an increased focus not only on generation but also storage, to make the most of the intermittent supply from wind and solar. Batteries are the common...
More details...
Power Electronics Europe News
Richardson RFPD supports ADIís low phase noise GaAs MMIC amplifiers
The ADL8150 self-biased GaAs MMIC, heterojunction bipolar transistor, low phase noise amplifiers operate at 6.0 to 14GHz frequencies and feature low phase noise of
-172dBc/Hz at 10kHz offset and provides 12dB of typical signal gain and 30dBm typical output third-order intercept (OIP3).
The amplifiers require 74mA from a 5.0V collector supply voltage. Inputs and outputs are internally matched to 50Ω, to facilitate integration into multichip modules, says the company.
The amplifiers are suitable for a range of applications, including military and space, test instrumentation, and communications.
Richardson RFPD, an Arrow Electronics company, offers full design support capabilities for the GaAs amplifiers.
View PDF