Features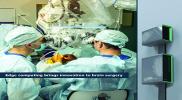 Edge Computing Leverages Modular Power in Scalable Micro Data Centres - May 2022
Edge computing is essential to realizing the full potential of artificial intelligence (AI), machine learning and internet of things (IoT). These technologies are being infused into every corner of...
More details...
Power Electronics Europe News
Sitara AM62 processors halve power consumption for edge AI applications
The Sitara AM5625 and AM623 are low power processors which can
support dual-screen displays and small human-machine interface (HMI) applications. Future HMIs will bring new ways of interacting with machines, such as enabling gesture recognition to give commands or enable control of devices with a wireless connection. Adding camera-based image processing and edge AI features to HMI applications, for example machine vision, analytics and predictive maintenance can enable human-machine interaction. Texas Instruments says the AM62x processors bring analytics to edge devices at low power, including suspend states as low as 7mW and that there is no need to design for thermal considerations, meaning these capabilities can be deployed where space is limited or noisy, industrial environments.

The processors also enable dual-screen, full HD displays and support for multiple operating systems, including Mainline Linux and Android. AM62 processors also support both wired and wireless connectivity interfaces.
AM62 processors can reduce power consumption in industrial applications by as much as 50% compared to competing devices, says the company. As a result, an application powered by AA batteries can remain on for over 1,000 hours. The low power operation is achieved via a simplified power architecture using two dedicated power rails and five power modes. Deep sleep mode at <5mW while an active power of <1.5W is made possible by a core voltage of 0.75V. The company also offers the TPS65219 power management IC which is specifically designed to meet AM62 processor power supply requirements.
The AM625 and AM623 processors are now available through TI and authorised distributors in a 13 x 13mm, 425-pin ALW package. The AM62 EVM (evaluation module) is also available.
The AM62 processors will be showcased at Embedded World (21-23 June) in Nuremberg, Germany. Visit Texas Instruments in Hall 3A – 215.
View PDF