Features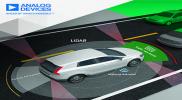 Powering the future of Autonomous driving - issue 4/2019
Analog Devices announced mid July a collaboration with First Sensor AG to develop products aimed at speeding the launch of autonomous sensing technology serving unmanned automotive, aerial and...
More details...
Linear voltage regulators operate at automotive temperatures
Designed for high reliability, high temperature applications, the CMT-Antares is Cissoid's latest regulator.
More details...
Power Electronics Europe News
Toshiba offers DC brushed motor driver IC in HSOP8 package
The B67H450FNG is supplied in a compact, HSOP8 surface mount package and has a popular pinout for use in new motor designs or as a plug-in replacement for existing ones.
The device is fabricated using Toshiba's BiCD process and can drive brushed motors with voltages from 4.5V to 44V. It is also claimed to have the industry's lowest standby current of 1µA achieved by a power supply circuit that controls the VCC regulator in standby mode.
As a result the IC contributes to saving power in many modern battery-powered applications such as small household robots and electronic locks as well as devices powered by 5V USB power supplies. It is suitable for industrial and commercial equipment including office automation and banking terminals, white goods and home appliances.
The IC can drive DC brushed motors in a total of four constant-current modes (forward, reverse, brake and stop). In addition to a single H-bridge channel, the IC incorporates several error detection features such as thermal shutdown (TSD), over current detection (ISD) and undervoltage lockout (UVLO). A built-in voltage regulator supports internal circuit operation.
Dimensions are 4.9 x 6.0mm.
View PDF