Features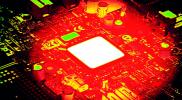 Integrated Battery-Charging Solution with Power Path Management - issue 5/2019
A new single coil power management IC with flexible configuration, rich functions and high efficiency integrates as many analog circuits as possible...
More details...
Linear voltage regulators operate at automotive temperatures
Designed for high reliability, high temperature applications, the CMT-Antares is Cissoid's latest regulator.
More details...
Power Electronics Europe News
Wide-input isolated converters save board space
The converters have a 4:1 input-voltage range and compact 25 x 25mm (1.0 x 1.0-inch) footprint with built-in protection.
There is a choice of 9.0 to 36V or 18 to 75V input ranges for operation with all standard industrial bus voltages from 12 to 48V, as well as popular battery types such as lead-acid or lithium. Inputs are protected against transients up to 100V to operate in electrically noisy conditions, and under-voltage lockout (UVLO) prevents over-discharging of batteries.
The 15W converters operate at up to 90% efficiency to deliver full power from -40 to 75°C with no derating. There is also no minimum load requirement, adds Dengrove. Single- or dual-output configurations are available, covering popular 3.3, 5.0, 12, 24, ±12, or ±15V. The outputs can drive high-capacitive loads and feature built-in continuous protection against short-circuit and overload conditions.
Single-ended output of 3.3, 5.0, 12, or 24V or ±12V or ±15V dual outputs can be customer-specified. Further options include an external on/off control pin and a trimming pin to adjust the output voltage up or down with an external resistor. Outputs feature built-in continuous protection against short circuit and overload conditions and can drive highly capacitive loads.
Another characteristic is 1.6kV isolation for safety in demanding applications. The converters are certified to the latest IEC/EN/UL 62368-1 safety standard and come with a three-year manufacturer's warranty.
View PDF