Features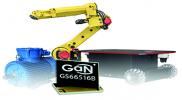 Power GaN can revolutionise the industrial world - issue 3/2019
Industry 4.0 brings rise to an era of smart factory floors that synergize mass production capabilities with automation, robotics and M2M communication....
More details...
Linear voltage regulators operate at automotive temperatures
Designed for high reliability, high temperature applications, the CMT-Antares is Cissoid's latest regulator.
More details...
Power Electronics Europe News
Mouser to stock Macomís 10W GaN-on-Si power amp module
The module can be used for a selection of radio and communications applications, including military tactical communications and electronic countermeasures, wireless public safety communications, and land mobile radio systems.
The matched 10W power amplifier module is based on gallium nitride-on-silicon (GaN-on-Si) technology. It operates in the 225 to 2600MHz frequency range and offers up to 40% power added efficiency (PAE) and 22dB power gain.
The module supports up to 36V operation (28V typical) and is robust, operating over the -40 to 85°C temperature range. The module has top and bottom mounting configurability and is supplied in a 14 x 18mm package. The module supports radio designs with strict size, weight, and power (SWaP) specifications and has an integrated gold-plated copper heatsink and a laminated air cavity package, which eliminates the need for PCB space and componentry associated with unmatched PA modules.
View PDF