Features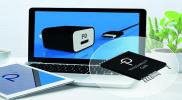 GaN-based switcher ICs empower next-generation power products - issue 1/2020
There have been a number of disruptive advances in the power electronics community over the last 20 years....
More details...
Linear voltage regulators operate at automotive temperatures
Designed for high reliability, high temperature applications, the CMT-Antares is Cissoid's latest regulator.
More details...
Power Electronics Europe News
Vicor Strengthens Automotive
Vicor Corporation today announced the appointment of Nicolas Richard to the role of Director of Automotive Business Development for Europe.Prior to joining Vicor, Nicolas worked at IDT (Renesas) as Automotive Sales and Field Applications Engineer focused on technical sales in powertrain, infotainment and ADAS-based systems.His experience includes numerous engineering roles at On Semiconductor, Continental Automotive and VDO (Continental Automotive), working on projects designing DC/DC converters for hybrid and electric vehicles.